Memory: USB Drives
| | |
| --- | --- |
| Portable USB flash storage | |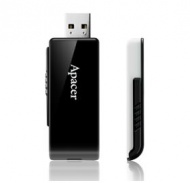 - USB3.0
- USB2.0 Backward Compatible
- Hidden Side Push Key
- Compact & Streamlined Design

USB Interface: SuperSpeed USB3.0; backwards compatible with USB2.0
Color Scheme: Black
Power Supply: USB bus powered; No external power requi
[BRAND] Apacer
[MPN#] AP16GAH350B-1
Stocked at supplier
$21.00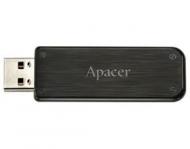 Retractable USB Connector , High-Speed USB 2.0 certified, backward compatible with USB 1.1, LED indicates data transferring status, System support: Windows 98/98SE/2000/ME/XP/Vista, Mac OS 8.6 and Linux kernel 2.4.0 or above(drivers required for Windows 98/98SE), Read up to: 10MB/sec ; Write up to: 3MB/sec.* (Speed may vary due to hardware, software and usage.)
[BRAND] Apacer
[MPN#] AP16GAH325B-1
Stocked at supplier
$13.00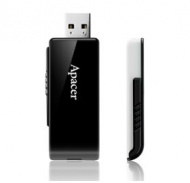 - USB3.0
- USB2.0 Backward Compatible
- Hidden Side Push Key
- Compact & Streamlined Design

USB Interface: SuperSpeed USB3.0; backwards compatible with USB2.0
Color Scheme: Black
Power Supply: USB bus powered; No external power requi
[BRAND] Apacer
[MPN#] AP32GAH350B-1
Stocked at supplier
$41.00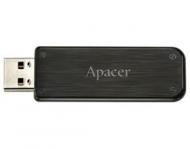 Retractable USB Connector , High-Speed USB 2.0 certified, backward compatible with USB 1.1, LED indicates data transferring status, System support: Windows 98/98SE/2000/ME/XP/Vista, Mac OS 8.6 and Linux kernel 2.4.0 or above(drivers required for Windows 98/98SE), Read up to: 10MB/sec ; Write up to: 3MB/sec.* (Speed may vary due to hardware, software and usage.)
[BRAND] Apacer
[MPN#] AP32GAH325B-1
Stocked at supplier
$21.00

* Modern Zen Design Style
* Retractable USB Connector
* Portability- one strap hole makes it easy to carry
* High-Speed USB 2.0 certified
* LED indicates data transferring status
System support: Windows 98/98SE/2000/ME/XP/Vista, Mac OS 8.6 and Linux kernel 2.4.0 or above(drivers required for Windows 98/98SE)
Read up
...

more
to: 10MB/sec ; Write up to: 3MB/sec.* (Speed may vary due to hardware, software and usage.)


[BRAND] Apacer
[MPN#] AP64GAH325B-1
Stocked at supplier
$34.00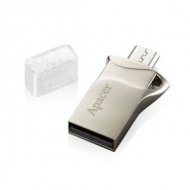 **MicroUSB/USB dual-interfaces**
Apacer AH173 implements innovative built-in MicroUSB and USB dual-interfaces. The front-end MicroUSB allows the connection with smartphones and tablets with OTG functionality to expand storage space. To connect with various PC devices, the flash drive also has the standard USB plug on the back.
System
...

more
Requirement: Windows 8, Windows 7, Vista , Windows XP, Linux Kernel 2.6.x or later, MAC OS 10.x or later Android
Interface: Micro USB & standard USB heads USB 2.0 specifications compliance Backward compatible with USB 1.0 specifications
Functionality: OTG, Plug and Play
Voltage Requirement: DC5V± 10%
Operating Temperature: 0 ℃~ 60℃
Weight: 5.5g
Storage Temperature: -25 ℃~ 60℃
Package Contents: The unit, metallic ball chain and a cap
Dimension: 32 x 16.95 x 6.21, unit: mm
Certificate: CE, FCC, BSMI, C-Tick

[BRAND] Apacer
[MPN#] AP8GAH173S-1
Stocked at supplier
$14.00