Video Cards: Sapphire The card features a Polaris GPU with 2304 4th generation of Graphics Core Next stream processors, boost-clocked at 1366 MHz, and 4GB of VRAM . The industry proven SAPPHIRE Dual-X system serves as the cooling solution, with dual ball-bearing fans and the SAPPHIRE Quick Connect feature for easy cleaning and replacement.
[BRAND] Sapphire
[MPN#] 11265-09-20G
Stock in store
$459.00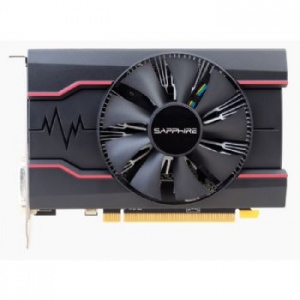 Based on a modern Polaris architecture and sporting 512 GCN stream processors boost-clocked at 1206 MHz, the RX550 is up to 5X faster than an INtel integrated Graphics and up to 2X faster than the previous generation Radeon R7 250 card. The modern GPU also means better support for the latest display and video technologies, such as DriectX 12, FreeSync or H.265 4K encoding.
[BRAND] Sapphire
[MPN#] 11268-03-20G
Stocked at supplier
$131.00