-- SSU USB 3.0 2 Back + 2 Ports 20-pin Internal Connection PCI-e Card with Overload Protectection

$20.00 inc GST

| | |
| --- | --- |
| ■ Our stock | in-stock |
| ■ Brand | -- |
| ■ Part # | U3055-N |

Actual product may vary from the image
Product Information
USB 3.0 4-Port (2+2) PCI-E Card Low & High Profile Panel
SuperSpeed™ USB 3.0, 2 back ports + 20-pin internal ports (supports 2 USB 3.0)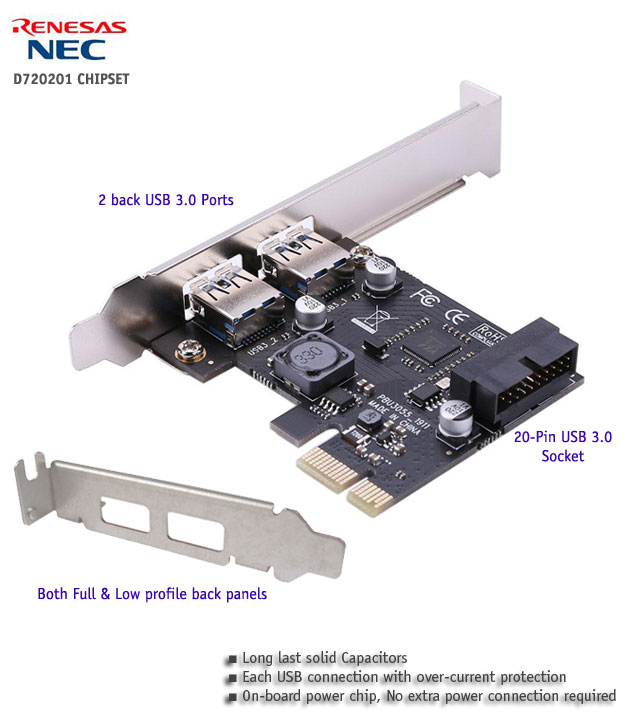 NEC / Renesas* D720201 chipset card, supporting 4 USB 3.0 connection totally:
2x back USB 3.0 ports.
1x 20-pin USB 3.0 jack which supports up to 2 USB 3.0 ports (for front USB, Memory Card reader etc.)
Full & low profile back panel;
*NEC Electronics and Renesas Technology merged in 2010
System required:
An available PCI-Express slot.
Windows XP / Vista / 7 / 8 / 8.1 / 10 (32bit or 64bit)
Package Includes:
USB 3.0 Card with Full profile panel.
A spare low profile back panel.
Software Driver
http://www.computeronline.net.au/x/Drivers/USB-NEC30/RENESAS-NEC-USB3-Host-Driver-30230-setup.exe

No manual driver install needed for Windows 8/8.1 & 10.
Support is already built into the operating system.
Just plug in the USB 3.0 Card and the drivers will be automatically installed.
A reboot may be required afterwards.
If automatic driver install fails then use driver from download link.
Note: For reducing the freight cost, we will unpack the package to send the item.
Important Note: Product information is acquired from suppliers and relevant manufacturers. Please check directly with the manufacturers for the most up to date information. While we make every effort to keep this site current and error free, we cannot honour errors which include but are not limited to outdated/incorrect pricing and/or specifications. Prices and specifications can change without notice. Pictures are for illustration purposes only and are not guaranteed to be completely accurate. Individual compatibility of items not guaranteed unless installed and tested by our technicians. Please email us with any specific enquiry.
If you find cheaper price than us within Australian websites, please
Click here
.