Windows 10 Anniversary update: Support and compatibility for the adapter is currently limited to one functioning adapter (Extend Mode Only) at any one time.
USB 3.0 to HDMI Display Adapter with Audio
Connects an additional HDMI compatible monitor / TV / projector to your computer via USB port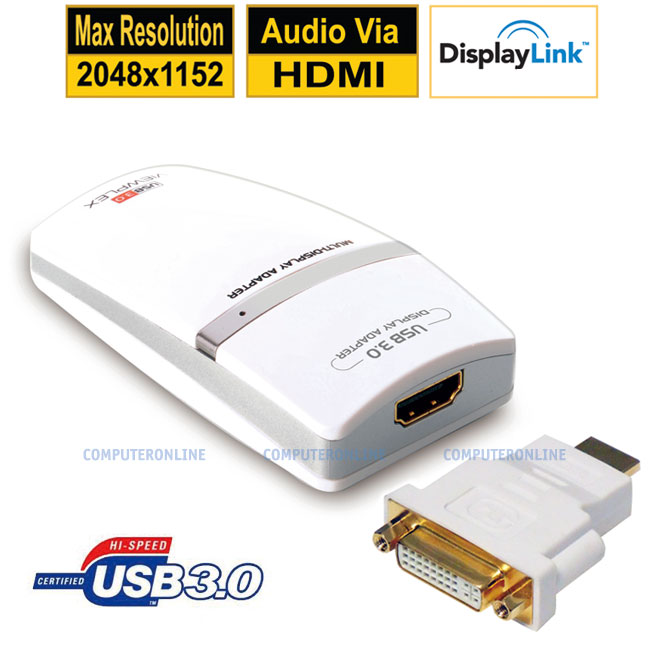 USB 3.0 to HDMI Display Adapter
USB 3.0 output to HDMI with Audio or DVI via converter, DisplayLink© DL3500 chipset. Up to 2048 X 1152 resolution
- The software of the USB graphic adapter allows full configuration of all additional displays, including:
Supports up to 6 additional USB displays (for PC, with each individual USB graphic adapter)
Extended (Left / Right / Above / Below), Mirrored, Primary display
Rotation
Layout of displays
Colour depth
- DisplayLink™ software is available for running on:
- Graphic Card compatibility for Windows© 8 / 7 / Vista:
DisplayLink™ software supports a computer with a single graphic card installed from all major GPU venders.
Switchable Graphics (i.e your computer can switch from nVidia graphic card to intel graphics) may exhibit issues in certain circumstances
SLI™, CrossFire™ Hybird Graphics are currently un-supported on Windows© 8 / 7 / Vista
DisplayLink™ software supports all graphic cards on Windows© XP
- System Requirements
At least 1 free USB 3.0 or 2.0 port
At least 1.2GHz CPU, 512MB memory (for 1 extra monitor, basic usage - such as word processing)
Recommended CPU speed >= 1.8 GHz Dual Core; Memory >= 1GB
- The Package includes:
USB 3.0 to HDMI Adapter
HDMI to DVI converter
USB 3.0 cable
Software & Driver CD
User manual
If you find cheaper price than us within Australian websites, please
Click here
.