Storage: Synology Synology DiskStation DS416J is a 4-bay NAS server specifically desgined for home and personal users to effectively manage, protect and share data. You can enjoy effortless data sharing, multimedia streaming and cloud synchronization features while keeping data safe and secure. Synology DS416J is backed with Synology's 2-year limited
...

more
warranty.
Specification:
•CPU Frequency: Dual Core 1.3GHz
•Hardware Encryption Engine
•Memory: DDR3 512MB
•Internal HDD/SSD: 3.5" or 2.5" SATA(II) x 4 (Hard drive not included)
•Max Internal Capacity: 32TB (4x 8TB HDD) (Capacity may vary by RAID types)
•External HDD Interface: USB 3.0 Port x 1,USB 2.0 Port x1
•Size (HxWxD): 184x168x230mm
•Weight: 2.21Kg
•LAN: Gigabit x1
•Wake on LAN/WAN
•System Fan: 80x80mm x2
•Wireless Support (dongle)
•Noise Level: 18.9 dB(A)
•Power Recovery
•AC Input Power Voltage: 100V-240V AC
•Power Frequency: 50/60 Hz, Single Phase
•Power Consumption: 31.56W (Access); 7.68W (HDD Hibernation)
•Operating Temperature: 5°C-35°C
•Storage Temperature: -10°C-70°C
•Relative Humidity: 5%-95% RH
•Maximum Operating Altitude: 6,500 feet

[BRAND] Synology
[MPN#] DS416J
Stocked at supplier
$486.00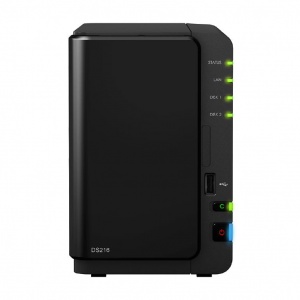 Synology DiskStation DS216 is a feature-rich 2-bay NAS server best fits the need of workgroups and offices environment , specifically designed for users who need to share and protect data effectively , while increasing productivity with comprehensive office applications. Synology DS216 is backed with Synology's 2-year limited
...

more
warranty.
Specification:
•CPU Frequency: Dual core 1.3GHz
•Hardware Encryption Engine
•Memory: DDR3 512MB
•Internal HDD/SSD: 3.5" or 2.5" SATA(II) x2 (Hard drive not included)
•Max Internal Capacity: 16TB (2x 8TB HDD) (Capacity may vary by RAID types)
•Hot Swappable HDD: No
•External HDD Interface: USB 3.0 Port X 2, USB 2.0 Port x 1
•Size (HxWxD): 165x108x233.2mm
•Weight: 1.3Kg
•LAN: Gigabit x1
•Wake on LAN/WAN
•System Fan: 92x92mm x1
•Wireless Support (dongle)
•Noise Level: 19.9 dB(A)
•Power Recovery
•AC Input Power Voltage: 100V-240V AC
•Power Frequency: 50/60 Hz, Single Phase
•Power Consumption: 18.48W (Access); 8.28W (HDD Hibernation)
•Operating Temperature: 5°C-35°C
•Storage Temperature: -10°C-70°C
•Relative Humidity: 5%-95% RH
•Maximum Operating Altitude: 6,500 feet

[BRAND] Synology
[MPN#] DS216
Stocked at supplier
$434.00